Get involved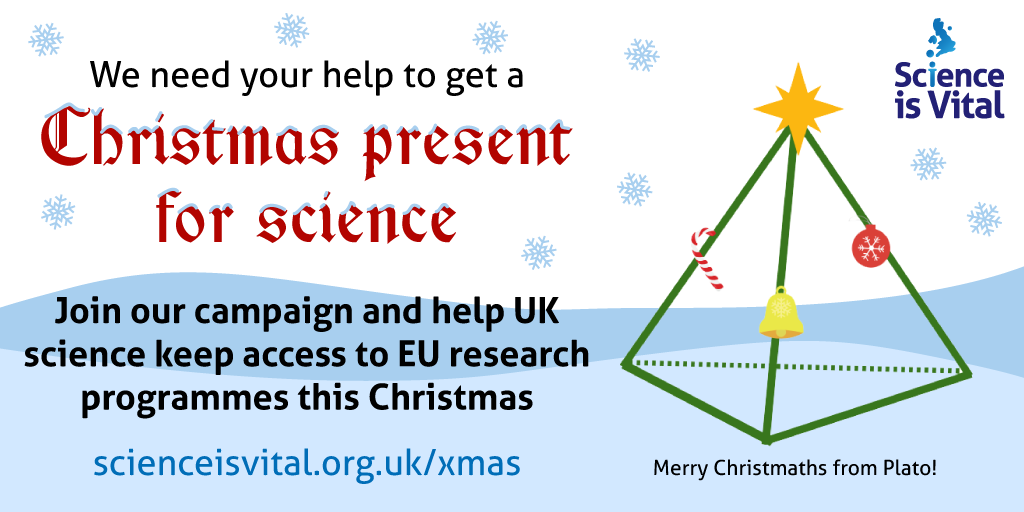 Check out the newly launched 'Christmas Present for Science' campaign! The best gift UK science could receive this festive season is for access to EU research programmes to be maintained, and they've got a three-step plan to make that happen. Head over to scienceisvital.org.uk/xmas to get involved.
Join the conversation
Please tweet, retweet, share and like! And feel free to get in contact if you have any questions about the Scienceogram or science funding you would like answered.
Help spread the word
Please tell your friends and colleagues about the Scienceogram! We don't think many people have looked at government funding of science in quite this way, and the more people are aware of it, the more people can come to an informed opinion about the level of spending.
Scienceogram international
Most of the figures on this website are UK-based, but we'd love to create a collection of international Scienceograms for countries around the world! Get in touch if you might be interested in taking on this challenge for your country…
Subscribe
Subscribe to our blog feeds: RSS or Atom.
Other organisations
There are a few organisations in the UK that also advocate increased investment in scientific research. Check them out for some more ideas and information.
A grassroots campaign of UK scientists and supporters formed as a response to threatened government cuts to science in 2010.
The Campaign for Science and Engineering (CaSE) is an independent organisation that aims to raise the political profile of science and engineering. They do great work on behalf of academia and industry in lobbying government and politicians across many scientific issues, including funding.