A #nomakeupselfie makes up a big part of your cancer research funding
It wouldn't normally be cause for celebration when something related to cancer goes viral, but this week's #nomakeupselfie trend has been great news for Cancer Research UK. The charity has received millions of pounds in donations after women posted photos of themselves wearing no make-up to social media websites.
Women were encouraged to post a selfie, and then make a text message donation of £3 to Cancer Research UK. What's fascinating about this from a science funding point of view is just how significant a £3 personal donation is in the context of UK medical research. We in the UK spend £5.20 per person per year on charity-funded cancer research. Many of the women participating won't have thought twice about donating £3 and yet, taken on average, they have boosted their personal charity funding of cancer research by nearly two thirds!
When compared to research into other diseases, the numbers are even more stark: a £3 donation to stroke research would be more than eight times the research spend per person per year—for government and charity combined.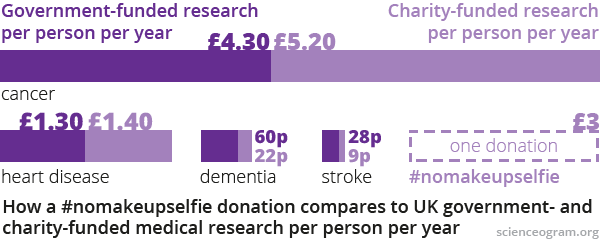 This kind of comparison really drives home how small our investment in science is compared to the size of the problems science is trying to solve. If we each took a #nomakeupselfie once a year and donated £3 to medical research, it could make a significant difference to research into many debilitating and deadly conditions. For a few tens of pounds each, we could transform UK biomedical science, accelerating the development of new treatments, helping those suffering from these diseases and reducing their vast economic cost. (You can read more about the numbers involved on the Scienceogram's in-depth page about health.)
The success of #nomakeupselfie shows the public appetite for supporting medical research, and putting these numbers into context shows how just how little can make a big difference.