The cost of space missions
This week, NASA's New Horizons probe made the first ever flyby of distant, frozen Pluto. We were wondering how much the mission cost, how that stacked up against the price of other space exploration, and how that looked in context with other expenditure…in this case, the war in Iraq. We've produced an infographic to try to make sense of it all. Please share it!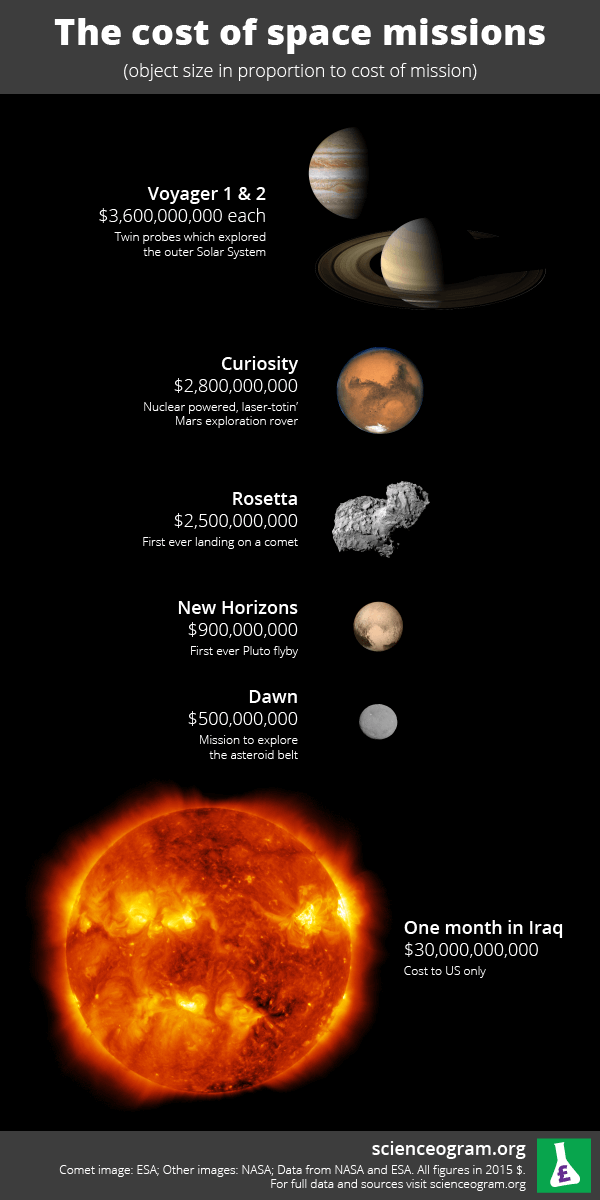 The basic take-home message here is that space exploration is cheap: an ambitious space mission might cost a couple of billion dollars, which is a few dollars per American, or euros per European. As our Rosetta infographic points out, it's also important to remember that these costs are spread out over the duration of the mission, which is often a decade or more. That means exploring space costs literally cents per person per year, for which we get spectacular images, important science, and the ever-present possibility of spin-out technologies which can transform our everyday lives.
By comparison, the war in Iraq is estimated to have cost the US alone three trillion dollars. We had to divide that up into a per month cost just to get it to fit on the graphic, and even then it dwarfs the cost of space science. Sending New Horizons to Pluto cost less than an average day in Iraq.
Each of these missions is fascinating in its own right, so do read more about Voyager, Curiosity, Rosetta and Dawn. But of course the limelight at the moment is firmly on New Horizons as the first high-resolution images of Pluto's mysterious surface trickle back to Earth. Massive congratulations to the team!
All the data we used in this infographic are available in a Google Spreadsheet.