UK research under threat: join Science is Vital's new campaign
With the government's spending review coming up in about a month, research is again under threat. Grassroots pressure group Science is Vital is springing into action with a new campaign. We all need to tell the government about the vital importance of research to our health, the environment and the economy. Make your voice heard and get involved.
What you can do
Write a postcard to George Osborne explaining why science is vital to you personally. Whether you're a scientist, a patient or just love science, Science is Vital needs you to tell the government what research means to you. And then ask your friends and coworkers to do the same! Once you've submitted your postcard, do share it on social media too. If you're after some inspiration, check out this gallery of postcards by the Guardian science bloggers, or Science is Vital's Twitter media stream (they've been tweeting them as they come in!).

Come to the Science is Vital rally in London on October 26th at Conway Hall in central London at 19:00. The evening will be both a celebration of science, and a demand that the government set out a positive plan for investment. The event will feature a mix of inspirational speakers from the worlds of science, policy, economics, comedy, patient advocacy and the media. Confirmed guests so far include Jim Al-Khalili, Uta Frith, Simon Singh, Julian Huppert, Adam Rutherford, Lucie Green and Mark Miodownik, and all compèred by stand-up mathematician Matt Parker.

Get involved with the rally wherever you are. If you can't make it to London, Science is Vital is organising a few events around the country. And, if you can't make it to one of those, the whole event will be live-streamed online to watch around the UK and indeed the world.

The government needs to hear the message loud and clear: research benefits our economy, our environment and our lives. Cutting science would be an astounding false economy.
Please get involved, and spread the word far and wide.
Spread the word
If you want to share information about the event on social media, here are a couple of graphics you may find useful: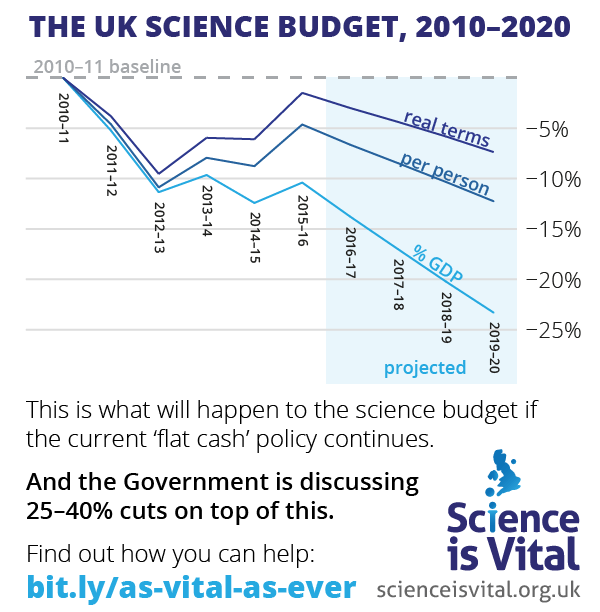 ---